Overview

Quick link to Vehicles
This article explains how to add Vehicles.
Essential fields for adding a vehicle.
Cab9 Vehicle Managment
1
Cab9 requires a record of vehicle information to populate passenger notifications, letting them know which vehicle has arrived to collect them.
Under many regulatory regimes, it is also necessary to provide this information to a passenger and keep a record of vehicle documentation.
2
To add a new vehicle, click the green add New Vehicle button pictured above.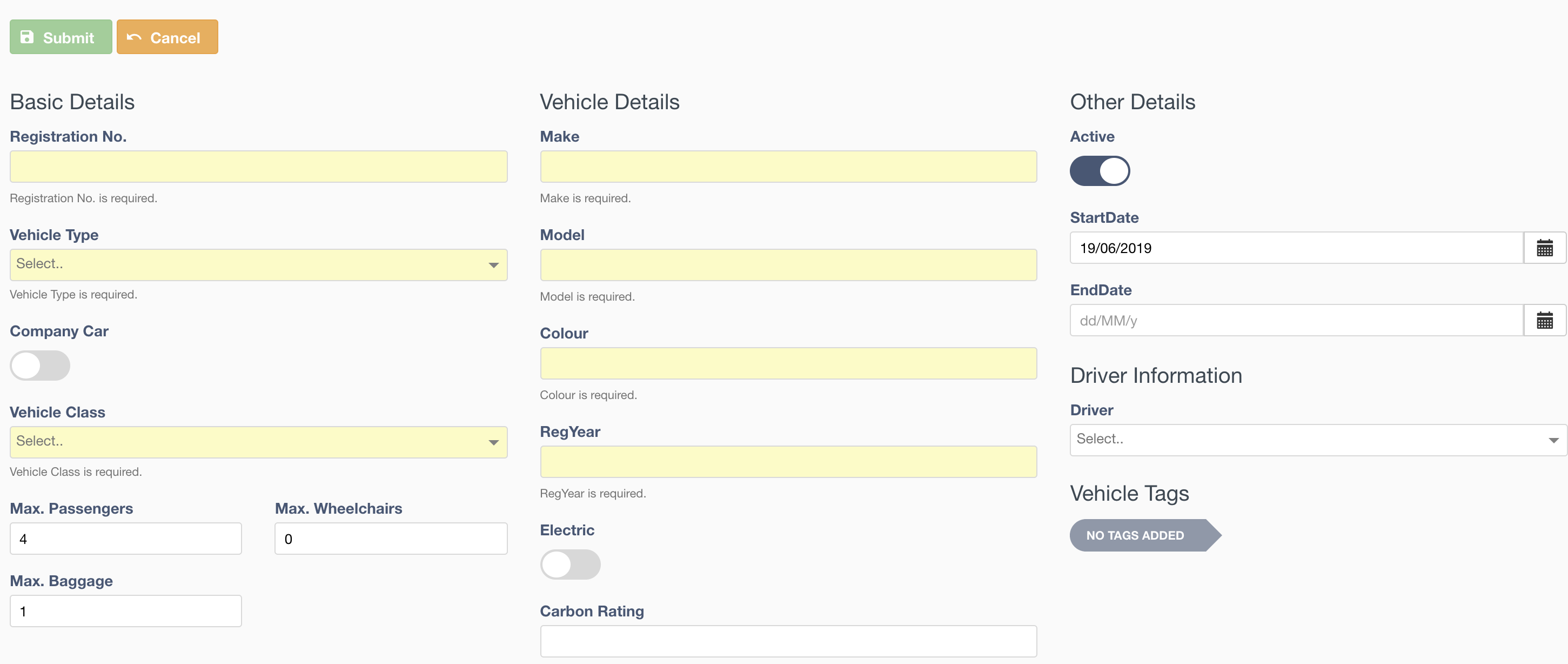 3
Fields in YELLOW are mandatory, the bare minimum for Cab9.
Fields are :
Registration – The vehicle VRN, appears on SMS to the client
Vehicle Type – The type of vehicle, chosen from Vehicle Types set up earlier
Company Car – this determines whether the vehicle is available to more than one driver, and the paytable for the driver in it.
Vehicle Class – You may have created vehicle types to suit your company. If you have not, use 'default'
Max Passengers – the max number of passengers your vehicle is licensed to carry or is plated for
Max Wheelchairs – the max number of passengers your vehicle is licensed to carry or is plated for
Max Baggage – the max number of checked in baggage items the vehicle can carry concurrently with MAX passengers
Vehicle Make – eg, Mercedes, Ford
Vehicle Model – eg, E-Class, Mondeo
Colour – Vehicle colour
Reg Year – the year of vehicle registration from V5
Electric toggle – whether the vehicle is electric
Carbon rating – The CO2 rating from the V5, used to determine ULEZ compliance and to generate CO2 emission reports for clients
Active toggle – Is this vehicle active and available for the fleet
Start Date – the date the vehicle became available for dispatch
End Date – the date the vehicle ceased being available for dispatch
Driver Information – the driver (if any) currently assigned to the vehicle
Next Steps